Integrate color picking into your existing order picking operations to flex labor and meet spikes in demand.
The Kardex Color Pick System is a simple and flexible pick-to-light solution that seamlessly integrates with existing Kardex Remstar machines, enabling you to scale labor and workflows to meet your growing needs. Based on the principles of pick-to-light technology, the Kardex Color Pick System guides multiple operators through the picking process using colored pick lights allowing you to add or reduce labor resources to meet current order demand.
When demand is high, the Kardex Color Pick System allows multiple workers to pick from dynamic work zones using pick-to-light technology for higher throughput. When demand is lower, the pick-to-light technology can be operated with only one worker. This allows you to easily scale your labor force to meet peaks in order picking demand.
Achieve Higher Throughput
The Kardex Color Pick System combines several orders into a batch that can be simultaneously processed. The unique concept adds colored lights into the batch picking process allowing multiple operators to pick from one work zone.
The Kardex Color Pick Systems can achieve up to 300 order lines per hour per operator to achieve higher throughput.
It is a team picking philosophy with high throughput and dynamic workflows. Using multiple workers in one zone, multiple batches of orders can be filled at one time to achieve higher throughput.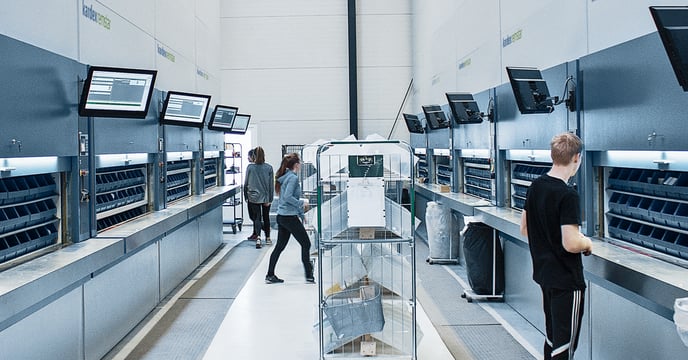 Maximize Labor Efficiency
With the Kardex Color Pick System, labor used within the system can scale to meet order demand on any given day. For example, if on Monday order volume is high, 6 operators can be added to manage the demand. While on Tuesday order demand drops by 30-40%, labor can easily be adjusted to 4 people. Using a Kardex Color Pick System, labor can be easily adjusted to match the current order demand.