A proactive monitoring system to keep your system running at peak efficiencies.
This new platform is the digital lifeline to your Kardex Remstar automated storage and retrieval systems. Remote Support is a cloud based service platform which monitors Kardex Remstar solutions and conducts services remotely if needed. This helps companies minimize downtime and increase productivity.
Remote Support consists of two applications, Remote Assistance and Analytics:
Remote Assistance
The Remote Assistance solution allows for faster reaction times and the ability to proactively fix upcoming errors remotely. Remote Assistance monitors the condition of your system including errors and simple warnings. This allows us to proactively contact you if we see problems occurring, remotely access the machine and fix errors proactively, before major issues arise.
Analytics
Analytics can further analyze operational data such as picking cycles. We can then notify you when machine utilization is lower than expected, leading to a higher process reliability and effectiveness.
With Remote Support:
Downtime costs are kept to a minimum as a priority hotline connects operators directly
with experts
Higher first-time-fix rates are achievable due to precise diagnosis before actually coming to your site
Faster reaction times and efficient service processes save valuable time due to condition
monitoring and the service request button on the machine
Troubleshooting is more efficient as error logs can be viewed by both parties online
Process optimization: unit effectiveness, utilization and cycles are analyzed continuously for more effective use
Early detection of possible downtime and identification of operational faults, unit status messages can be set to suit individual preferences
Higher transparency guarantees process reliability with the help of live overview of the equipment status
Higher planning security is achieved through more efficient maintenance intervals defined on basis of usage data
Convenient evaluation for optimal processes are facilitated by online access to reports and unit documentation in the mobile app
Learn more about Kardex Connect in our 20 minute webinar: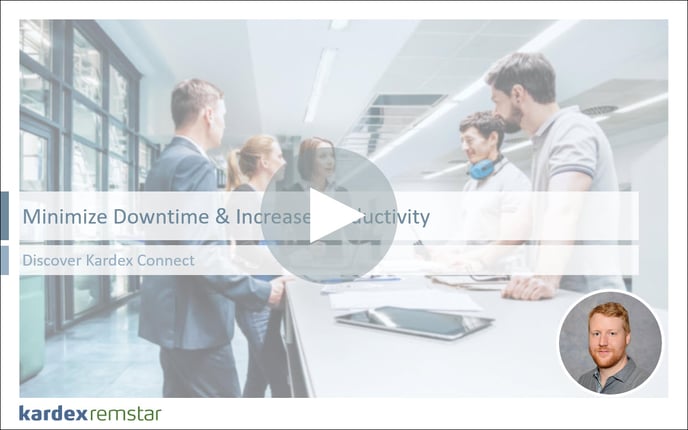 For more information, download the Solution Guide: Proactive Monitoring