Struggling to keep up with increasing order demand? Kardex Frame Pick System can increase throughput and accuracy.
The Kardex Frame Pick System is an innovative, goods-to-person solution that increases throughput dramatically without the complexity (or price tag!) of a large-scale automated system using robots and miles of conveyors. A simple combination of automated storage and retrieval systems (ASRS) with inventory management software and intelligent batch picking; the Kardex Frame Pick System can increase throughput to keep up with the increased order demand e-commerce organizations are experiencing.
Put frames and pick carts can be combined with existing ASRS work zone to create the Kardex Frame Pick System. Labor can be easily adjust to manage fluctuating demand. When demand is low, only one worker is needed to manage the automated work zone. As demand increases, workers can be added to increase throughput rates instantly. However, the maximum number of workers in a work zone cannot exceed the number of ASRS in the work zone.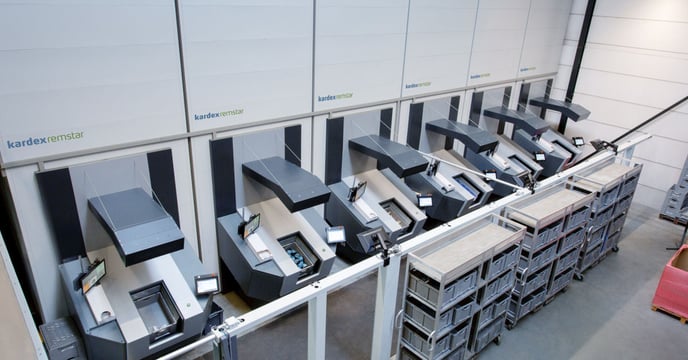 Color lights to enable workers to pick/put alongside one another at peak times. Each ASRS in the work zone is assigned a color. This means, on the pick light display at the ASRS, a unique color is displayed to identify the pick.
The operator picks from any ASRS with a waiting pick, noting the color of the unit they picked from. As they turn to distribute the picked SKUs among the order totes, they look for the put lights in the matching color. For example, if the operator picks from the ASRS unit displaying a blue pick light, the corresponding order locations have blue put lights.
This means the operator is not assigned to an ASRS. The workers in the work zone simply pick from any ASRS that is ready and put to the order totes with the same colored light. This allows workers to join in at any time to increase throughput speeds, even if just for 60 minutes when a spike occurs. Further, the system is easy to understand, even for new employees – eliminating the need for time-consuming training.