Our service packages are designed to support your operational business goals.
Our support packages put you in control.
At Kardex Remstar, we understand unanticipated downtime can have serious consequences on your business. By partnering with us, our trained and certified technicians will work to prevent unplanned downtime and extend life of your machine through regular scheduled maintenance, rapid response and open communication through decommissioning. We'd be happy to help you find the best package that best supports your goals contact us today.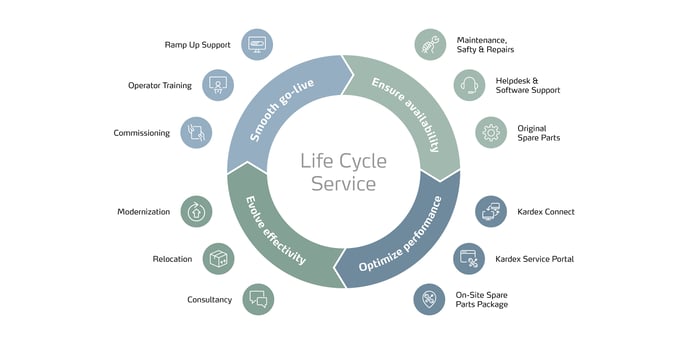 Kardex Base Care
I need a reliable and dependable system
Rely on our certified technicians to support your system. In the event of downtime or questions, our service team is available to help you during normal working hours. Kardex Base Care provides basic support for non-critical systems.
Kardex Flex Care
I need guaranteed rapid response in case of malfunction
Adjust the contract details to match your exact needs. Flex Care let's you decide how much support you need from us. Kardex Flex Care is our most popular contract package for companies with their own maintenance staff.
Kardex Full Care
I need full support at predictable costs
Enjoy maximum service protection at predictable costs. Our Kardex Full Care package includes all service requirements, so there are no additional costs for the repair or maintenance of your storage systems. Kardex Full Care is for companies that do not have their own in-house maintenance provision.
For more information on our service packages, view our Service Portfolio.
Contact us to discuss the best package to support your operational goals.